Every success needs sacrifice but don't let your body pay it, be it your money!
How many people, including both genders, around you stay at home and do not do any work? Well, I can bet! Very little. But with the job comes responsibilities, stress, and FATIGUE!!
Today's world has been focused on keeping oneself busy and utilizing their strengths. It's generally a good thing. But there is a darker side too!
When you stand for hours and hours on the hardwood or concrete floor without changing posture, your feet get under a high amount of pressure. This phenomenon interrupts blood circulation and causes fatigue.
Sometimes, it may lead to a medical condition referred to as "Plantar Fasciitis" in which the heel of your foot develops severe pain and causes inflammation of the local tissues. It then affects your daily life, and eventually, you have to get a medical course to get rid of it.
But what if there is a lot of simple solution to that problem? And that is the use of a mat known as anti fatigue mat.
Before jumping on to the list, we suggest you should check out our detailed buyer's guide on how to choose anti fatigue mats.
Best Anti Fatigue Mats For Concrete Floors
Well, to counter fatigue that is caused by standing for a long period of time in the office or kitchen, we bring you the best anti fatigue mats for concrete floors.
PRODUCT
FEATURES
AVAILABILITY
Sky Floor Mats
Dimensions: 39 x 20 inches
Thickness: 0.5 inches
Weight: 4.05 pounds
NewLife GelPro Mats
Dimensions: 20 x 48 inches
Thickness: 0.8 inches
Weight: 5 pounds
Royal Comfort Mat
Dimensions: 39.8 x 20.3 inches
Thickness: 0.7 inches
Weight: 3.75 pounds
Topo Ergodriven Mat
Dimensions: 26.2 x 29 inches
Thickness: 2.7 inches
Weight: 8 pounds
ComfiLife Anti Fatigue Mat
Dimensions: 37.2 x 19.8 inches
Thickness: 1 inches
Weight: 3.95 pounds
Kangaroo Standing Mat
Dimensions: 32 x 20 inches
Thickness: 0.5 inches
Weight: 2.8 pounds
Gorilla Grip Mat
Dimensions: 40.2 x 20.2 inches
Thickness: 1.1 inches
Weight: 3.6 pounds
Butterfly Long Mat
Dimensions: 24 x 70 inches
Thickness: 0.75 inches
Weight: 7.5 pounds
Topo Mini Mat
Dimensions: 19.2 x 25.2 inches
Thickness: 2.5 inches
Weight: 4 pounds
CumulusPRO Anti Fatigue Mat
Dimensions: 36 x 24 inches
Thickness: 0.8 inches
Weight: 7.72 pounds
You may also like to learn the difference between anti fatigue mats and insoles.
1. Sky Mats – Anti Fatigue Floor Mat for Bad Knees & Back Pain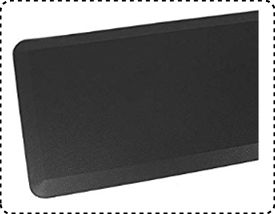 I am presenting you one of the best Anti fatigue mats in the market, The Sky Mats. From ideal size to beautiful design and patterns, everything is so perfect.
A soft cushioning layer of the mat provides relief to your feet and ensures that you can work all day long in your office without getting tired. The textured upper surface helps in better stimulation of the nerves and blood vessels. Hence, reducing the fatigue and providing an overall healthy day.
This mat is not only soft but is also firm and stable. Its non-slip base and beveled corners play a vital role in grasping the floor and prevent it from slipping or sliding due to movements of the feet.
It is available in a variety of colors. Some are matte colored while others come with a beautiful texture on them. Hence, it can be easily matched with a kitchen or office decor. It is recommended to use the mat with patterns at home to increase the beauty. As for offices, you can go for the dark matte colors.
It is made up of top quality and non-toxic materials, which means it does not emit bad smells. Additionally, it is waterproof that makes the cleaning process easy. You can clean them with a damp cloth or under running water.
Talking about the professions, it is suitable for people whose job involves long hours of standing like salesperson, chef, dishwashers, barbers and hairstylists as well. It is because the picking of hairs from this mat is very easy.
PROS
Eco-friendly
Variable patterns and colors
Easy cleaning
CONS
Quickly catch dirt and debris
2. NewLife GelPro – Best Anti Fatigue Mat for Kitchen Floor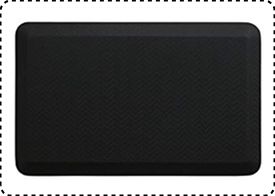 NewLife by GelPro is a super comfortable and durable anti fatigue mat. It is one of the best choices if your kitchen has a concrete floor because it provides a comfy upper surface and firm bottom to avoid skidding.
This mat helps in reducing the pain in your feet and ankles by providing a soft and comfortable surface to stand upon. With the thickness of 0.8 inches made entirely of the ergo-foam core, NewLife Anti fatigue mat makes the standing work stress and fatigue-free.
One of the main concerns that come into everyone's mind while selecting the best anti fatigue mats for kitchen is the skidding of the mat.
To be honest with you!
The non-slip bottom of the mat holds the floor firmly and keeps you safe from slipping. Furthermore, its beveled edges not only makes them aesthetically appealing but also protect you from tripping.
Spilling of oil or any other substance is not a problem anymore because the upper surface of the mat is stain-resistant. If it catches a bad stain, you can remove it effortlessly with a wipe of a damp cloth.
Talking about the styling of this product comes in a lot of colors and patterns. Hence, you can easily pick one for the kitchen and office.
PROS
Incredibly comfy surface provides relief to pain
Extremely durable and long lasting
Very easy to clean
CONS
Color look a bit different when you put it on floor
3. Royal Mats – Best Anti Fatigue Mat for Workstations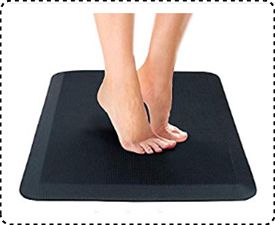 Royal Anti fatigue comfort mat is an all-purpose mat, and it is not just an illusion, there is an explanation to it too. Its super-durable construction makes it suitable for all types of floors and places.
Made with premium quality foam, this mat is suitable for concrete, marble, hardwood, and laminate flooring. You can use this mat in residential and commercial places such as kitchen, offices, hotels, industries, etc.
High-grade cushioning not only eliminate pressure but also provides maximum comfort and relief to your feet. It is designed to promote blood flow and proper body posture while standing on a hard floor.
The beveled, curved edges help in keeping the anti fatigue mat in contact with the floor and prevents it from curling, and restricting its motion as you stand on it.
Made of non-toxic, latex-free, and waterproof material makes it environment-friendly and more comfortable to clean. You can vacuum the mat's upper surface or wipe it with a damp cloth to get rid of dirt, debris, and stains.
Additionally, it comes in four different sizes and three different majestic colors. You can easily choose the right one for your home, office or laundry room. 
PROS
Made of non-toxic material
Efficiently reduces pain and discomfort
Strong grip on ground
CONS
Not as durable as claimed by the company.
4. Topo Comfort Mats – Best
Standing Desk Anti Fatigue Mat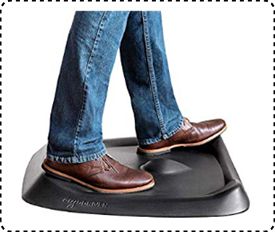 Topo Comfort mat by Ergodriven is no doubt one of the best Anti fatigue mats that not only excels in performance but also has got a unique design. It is the first mat that is designed solely for the standing desk.
This product must not be underestimated, as it is specially engineered after studying the overall behavior of human movements while standing at the workplace.
Made of 100% pure polyurethane foam makes the standing area very soft. It ensures maximum comfort and enables you to stand for long hours at your workstation in any posture without catching fatigue. Hence, you can easily perform your job.
There is also a teardrop-shaped heaved surface in the center to separate the region for the two feet. So, it is not like any conventional anti fatigue mats, which are flat, but has an uneven surface for better use.
Another great feature of this anti fatigue mat is its non-slip base, which locks it down to any surface. Additionally, Topo's unique hook system makes it extremely easy to reposition the mat as per your feet placement.
The material helps in flexible changing of the mat as the posture is changed. Due to more movements triggered by design, the circulatory system keeps working better and that's why it is one of the best anti fatigue mats for standing desk.
PROS
Promote subconscious movement for better blood pumping
Very unique design.
Comfortable surface eliminate discomfort.
CONS
Slightly heavier as compared to other mats.
5. ComfiLife – Non Slip Anti Fatigue Mat for Home, Office & Garage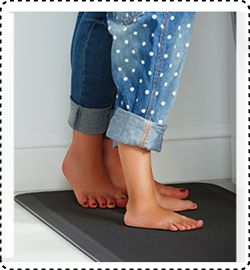 This Anti fatigue mat from ComfiLife provides a beautiful combination of comfort and durability. It is engineered to alleviate pressure and stress on feet, ankles, knees, and back while standing on a concrete surface; either you are working in your kitchen or office.
A supreme quality foam having a thickness of 0.75 inches is used in the manufacturing of this mat. Its cushioned layer plays a vital role in reducing the lower back pain, causes no or less stiffness to muscles and joints of lower limbs after long hours of standing.
The slip-resistant bottom and beveled edges of the ComfLife anti fatigue mat for concrete floor enables it to hold the ground firmly and prevent it from skidding.
The upper surface of the mat has a beautiful texture, and the best part, it is stain resistant as well. In addition, the top side of the mat is also anti-microbial and waterproof. This makes your task of cleaning the mat effortlessly. A simple vacuum or wipe of a damp cloth will do the trick.
This mat is not specified to any place, and rather it can be used anywhere. For example, you can use it in your kitchen when you are cooking or washing dishes, in your office at the standing desks, or in your educational institution while giving a lecture, etc.
PROS
Provides relief to feet by alleviating pressure.
Anti-microbial and waterproof surface.
Extremely light in weight.
CONS
Available in only one color.
6. Kangaroo Original – Best Standing Mat for Work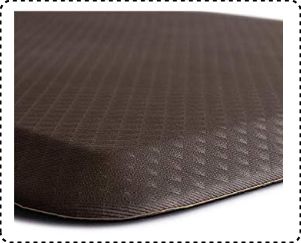 Kangaroo anti-fatigue mat for concrete floor is stylish, highly durable, and comfortable. It offers a lot of color options. Hence you can easily select one for your kitchen or workstation.
The product is genuinely engineered to be the best for daily usage. Its highest-grade foam provides comfortable standing for hours and efficiently eliminates fatigue, pain, and discomfort from feet, knees, and back that is caused due to standing for a longer period.
With a thickness of 0.5 inches, it not only provides supreme cushioning but also lets you enjoy work and improve your health. This is because the inner layer of foam is of premium quality, and it won't break down or compress even if you stand on it 8 hours a day.
While talking about the materials, it is important to mention that the material used in the composition of this mat is fully non-toxic and phthalate.
The upper layer of the mat is textured beautifully, which enables it to be used anywhere in the house. Furthermore, the surface is also waterproof, which makes cleaning of dirt and getting rid of bad stains very easy.
Its non-slip bottom holds the concrete floor firmly, preventing it from sliding due to foot movements, hence keeps you safe from slip and trip hazards.
PROS
Extra soft cushioning provides maximum comfort.
Highly durable and strong.
Available in a variety of colors and patterns.
CONS
Surface feels hard while standing barefooted.
7. Gorilla Grip Extra Thick Anti Fatigue Mat for Concrete Floor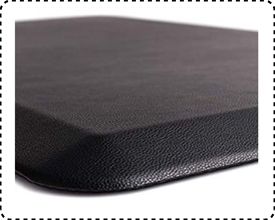 Gorilla Grip presents an Anti-fatigue mat that does not tear apart or compress after daily use and is also elastic enough to provide the needed comfort. Having an ideal thickness of 0.75 inches, it gives the best results on the concrete and hardwood floors.
The most appealing thing about these mats is the unique patterns and colors these are available in. You can get matte colored, textured, and two-toned mats for aesthetic appeal. All mats provide the same level of comfort and relief from fatigue.
The highly dense and superior quality foam diminishes the fatigue normally caused by standing on the floor for hours. Thick cushioning helps in absorbing all the stress and ensures that the user can comfortably stand for a longer period of time in any posture.
Beveled edges are highly resistant to curls and folds. This feature empowers the mat to hold the ground tightly and keep you safe from slipping, hence provides a firm base to stand on.
Don't worry about the spills and debris because its waterproof material makes the removal of food dirt and stains super easy. You can get rid of dirt and stains using a damped piece of cloth.
It is suitable for any place where you need to stand for hours. It may be a kitchen, office, laundry room, or your shop.
PROS
Extra thick and high-quality cushioning.
Very sturdy and flexible.
Made of odorless and non-toxic material.
CONS
Not good with high heels.
8. Butterfly Extra Large Anti Fatigue Floor Mat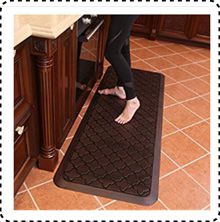 Long anti-fatigue mat for kitchen by Butterfly comes with a matchless touch of antique colors and patterns. The looks and designs give a majestic touch to the place where you put it. Although it is more suitable for the kitchen, based on your needs you can put it anywhere you like.
With 3/4 inches of thickness and soft cushioning, this mat provides a lot of comfort to feet, knees, and back. So, you no longer have to worry about the pain or fatigue caused due to standing for long hours on concrete floors in the office or at home.
This product is specially engineered to provide both the relief to feet and aesthetics.
No matter how much you use this product, its solid construction ensures that it won't get compressed or break down. Furthermore, edges of the mat are firmly made that don't curl or fold and keep you safe from tripping.
The non-skid and anti-slip bottom keeps the mat intact with the concrete floor, which means you are safe from slipping hazards.
The advance stain-resistant surface helps in quick cleaning of all the liquids that spill on it. It is also not affected by oily substances. You just have to use a damp cloth to clean all the dirt and stains from the mat.
PROS
Soft cushioning that makes long time standing comfortable
Very strong and durable
Waterproof and stains-resistant
Extra long in size
9. Topo Mini Anti Fatigue Mat for Small Workspace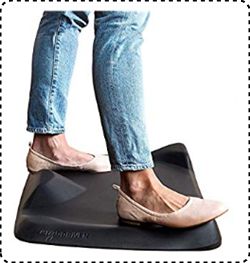 If you work at a place that is a bit congested, then Top Comfort mat mini version is perfect for you. It is as reliable and durable as the Topo Comfort is!
Topo Mini has a unique design compared to other floor mats. This mat is not flat and uniform. Mat's well-calculated terrain encourages the subconscious movement of feet, which provides better blood pumping and keeps you healthier.
The concept behind this design is very simple; we keep changing our posture and foot placing so that we can comfortably stand for a long period of time without feeling any fatigue or stress on our feet.
It is made up of flexible foam, which provides a user very comfortable standing experience. No matter on which type of surface you are standing on, you won't feel pain or discomfort in your legs and back.
The lower surface gets tangled with the floor in such a way that it does not get swayed by the minor movements of the feet. But if you want to change the placement of mat, you can easily do it with your foot.
The top surface of this anti-fatigue mat for hardwood floor and the concrete floor is highly resistant to stains and waterproof, making the cleaning of mat extremely easy with a wet cloth.
When it comes to durability, this mat can be your companion for a longer period without tearing and breaking down. In addition, the elastic nature of this does not let it be compressed over time.
Topo mini mat from Ergodriven is available in 4 captivating colors of black, blue, grey, and purple, which makes it easier to match it with your home or office décor.
PROS
Best anti fatigue mat for standing desk
Flexible and easy to use
Encourages to maintains good posture
CONS
Not suitable for big footed people
10. CumulusPro 
Stand Up Desk Concrete Floor Mat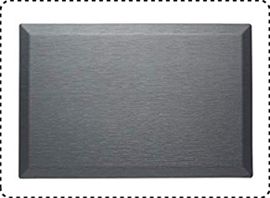 Last but not least is an anti-fatigue mat for kitchen and office floor is from CumulusProis. With a thickness of 0.75 inches, it surpasses 97 percent of other mats in this race. Such thickness stores a layer of soft and flexible cushioning foam.
Made with Cushion-Core Technology, it provides comfort, ease of use, and enhances your productive abilities. This greatly helps in reducing the fatigue caused by standing all day long. It is a good choice for standing workstations.
The material is purely polyurethane that ensures the surface of the mat doesn't crack or get compressed over the period of time. Another great feature of this mat is, it is environment-friendly and non-toxic (phthalate-free). It is also secure for the use of children and pets.
The company provides a 100% satisfaction guarantee for a lifetime, which is also a very positive sign.
A wavy textured upper surface of the mat offers to develop a firm contact between feet and mat. Beveled edges and non-skidding bottom establish a strong grip on the floor and ensure your safety to the maximum level.
Its waterproof surface can be cleaned easily with a vacuum cleaner or a wet cloth. It is also good at resisting the oil stains and hence is a better choice for your kitchen.
The only drawback that I noticed in this mat is the limited color choice. It is available only in grey color, and you are looking for something that matches with your décor, this mat is not for you until unless you are looking for a grey one.
PROS
Cushion-Core Technology increase comfort and reduce fatigue
97% thicker than other mats
Non-slip bottom keeps you safer
CONS
Weak grip on carpeted floor
What to Look for in Best Anti Fatigue Mat for Concrete Floors
If you don't know how to choose anti fatigue mat for concrete floors. You should go through this quick buyer's guide, it will make your shopping easy.
Material: Make sure that the anti-fatigue is made of phthalate-free, non-toxic, and odorless material.
Cushioning: Soft cushioning and better shock absorption.
Thickness: Anti fatigue mats having a thickness of 3/4 inches provides the maximum comfort.
Slip-Resistant: Anti-slip bottom prevents the mat from slipping, hence keeping you safe from slipping accidents.
Water and Stains Resistant: This features makes the cleaning of anti-fatigue mats easy. You don't have to waste your energy and time in cleaning it.
People suffering from plantar fasciitis can also follow the above mentioned features while choosing the best anti fatigue mat.
Final Words
Choosing a right and the best anti-fatigue mats for concrete floors can give you relief from fatigue or stress while working for long hours on hard concrete floors. Every single mat listed above on this list has its features and unique properties that make it stand out amongst the others. Rest depends upon your choice and budget, which one you want to go for, and which you want to skip! I will be updating the article if I get my eyes on some other best anti-fatigue mats for the concrete floor other than these.